Lindsay Lohan and The Sound of Music
The first time I saw the
Sound of Music
and I thought Julie Andrews was the coolest nun ever. She was so amazing with her singing and gentle hand as the governess of the von Trapp children. Grandma got really annoyed at me when I said I wanted to become Catholic.
Christopher Plummer was my first real crush. So masculine yet had such a big heart. I cried during the wedding scene wishing I was Julie Andrews.
In my freshman year they were holding auditions for the school's production of Sound of Music.
The president of the drama club at the time was Zoe Gardner. (Not her real name but her nick name was Zoe) The Zoe, as she was called, had first and last word on all audtions. If she started clapping the whole drama club would join in which meant you were part of the show. But if you were out you got stony silence before she said next. But she had a knack for surprising people by selecting a freshman for a lead role every now and then.
Anyways I prepared for the audition by watching the Sound of Music another ten million times singing along with Julie Andrews, fantasizing becoming Catholic and teaching school children to sing.
At the auditon I sang my heart out with Do Re Mi and even showed my moves that I choregrpahed to the song. At the end of the song I stood there waiting for Zoe Gardner to begin the applause. For a moment I thought maybe she would pick me to become Maria Von Trapp.
Instead she ripped me apart saying I sang like a half dead cow under a steam roller, my dancing reminded her of an epilitic trapped in a strobe light factory and I was no Julie Andrews. I just started crying and ran out.
I found out later that Zoe had it in for me since the beginning of the school year because the week before they broke up I danced with her ex-boyfriend from Horace Mann. I didn't know they were together and I didn't even kiss him all we did was a bit of freaking. So she blamed me for the break up. I never audtioned for a part ever again.
Last I heard of Zoe she tried to be a model in Paris, stopped shaving her pits and is working at a bed and breakfast with some 50 year old guy in Oregon.
When I saw
Confessions of a Teenage Drama Queen
it showed me what could have happened if I had just stood up for myself and just went for it.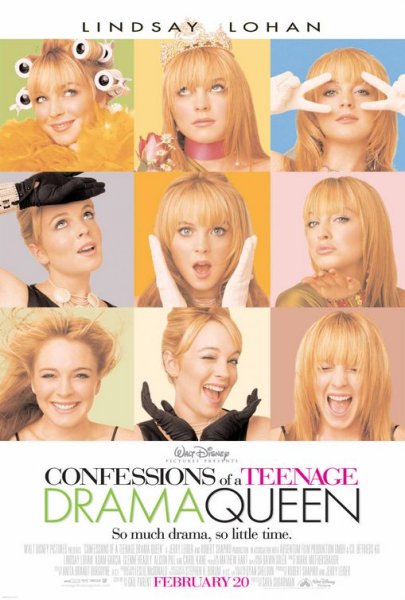 My favorite part is when Lindsay convinces her best friend to go to the Stu Wolf concert and end up getting shut out of the concert. I remember that happening when a bunch of us tried to sneak in to see N'SYNC backstage at msg.
That's why I love that movie Confessions of a Teenage Drama Queen it brought back so many memories of that time. I know it sounds silly but I saw myself as Lindsay Loahn trying to make her dreams come true. Even though the popular girl hated Lindsay and made her life a living Hell, Lindsay never backed down.
All I wanted at that age was to be on stage to have everyone see me on stage. And I let that hairy **** get to me.
And that's why Lindsay Lohan is so awesome since she doing whatever she wants to do by being a rocking movie star.
Going bar hopping in the east village! See ya!